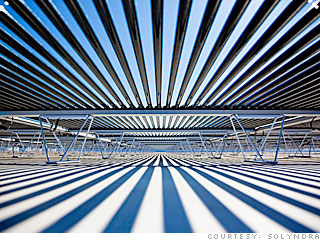 Solyndra's solar panels are installed on roofs, and their cylindrical shape helps bring in more refracted light than flat panels.
Investment: $1.6 billion in venture capital, private equity and loans
Solar panel developers have soaked up billions in venture capital over the past few years, but Solyndra has gotten by far the largest investment.
The Fremont, Calif., startup makes cylindrical solar panels rather than the traditional flat ones, which the company says makes its panels more efficient than competitors'. By picking up more refracted light, Solyndra's panels are intended to give customers more bang for their buck.
Solyndra got a $535 million government loan in March 2009, backed by a U.S. Department of Energy program aimed at fostering domestic clean energy development. That led to visits from President Obama and California Governor Arnold Schwarzenegger.
Investors have been enthusiastic, showering the company with more than $500 million in venture capital, according to the National Venture Capital Association. Solar research firm GTM Research estimates that Solyndra's total private investment is around $1.1 billion. Like most solar companies, Solyndra benefitted from the big solar investment boom in 2008 when gas prices soared -- but unlike its competitors, its high profile has allowed it to continue to getting funding in the two years since.
But there are plenty of warning signs surrounding the venture. Solyndra filed in December for an initial public offering, but two months ago it cancelled those plans. It's far from profitable and burning through cash: Solyndra is losing money on every solar panel it sells, and its cost of production is higher than most of its competitors'.
Some analysts think the once red-hot venture's star is dimming.
"Solyndra is a high-risk play, and I'm not sure that the risk/reward pays off," says Shyam Mehta, senior solar analyst at GTM Research. "There's nothing out of the ordinary about its earnings growth potential, nor is it superior to other technologies in terms of cost efficiency."

NEXT: Watson

Last updated August 26 2010: 12:40 PM ET