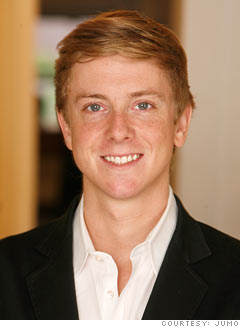 Jumo founder Chris Hughes
Founded: March 2010
Headquarters: New York City
$ invested: Undisclosed
Chris Hughes was one of four co-founders in at the ground floor of Facebook, along with Dustin Moskovitz, Eduardo Saverin and CEO Mark Zuckerberg. Hughes left Facebook in 2007 to run MyBarackObama.com, and he's keeping in the grassroots spirit with Jumo.
While it isn't open to the public yet, the site suggests it will try to harness the Internet's social networking power to help "speed the pace of global change."
More specifically, CNBC says Jumo is "a nonprofit website that connects visitors with volunteer opportunities and causes that match their interests." Jumo means "together in concert," according to the site's homepage.
Jumo is keeping a low profile at the moment, but executives say they plan to release a beta product by the end of the year. Hughes talked up Jumo last month at the Techonomy conference in Lake Tahoe: "[We need to] give users a reason to connect and make it easy to connect -- open opportunities for groups to better collaborate."

NEXT: Quora

Last updated September 08 2010: 10:30 AM ET