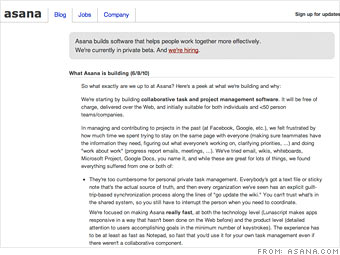 Founded: 2009
Headquarters: San Francisco
$ invested: $10.2 million
Asana is one of the hottest new startups in Silicon Valley, boasting hefty investments from a star-studded list of investors that includes Andreessen Horowitz and Benchmark Capital. Founded by former Facebook CTO Dustin Moskovitz, Asana is developing collaboration software to help employees work together on projects.
"In managing and contributing to projects in the past (at Facebook, Google, etc.), we felt frustrated by how much time we spent trying to stay on the same page with everyone," the company's founders wrote on their staff blog.
Asana executives declined to talk about their software, which is now in private beta testing. Though the company is keeping mum, Asana's Facebook page and blog sketch the venture's outlines. Its projects include a programming language called Lunascript that aims to make it faster and easier to build rich Web applications.
Asana will be free and available over the Web. Some of the planned features sound Facebook-esque: news feeds, comment walls and content sharing. Asana also includes enterprise-grade project management tools such as version control, LDAP integration and Gantt charting.
Asana is hiring for several positions in the Bay Area, but it's not for dabblers. The company warns applicants they "should be ready to make Asana a primary focus of your life. We will be working together, eating together, and playing together." But the job comes with a bunch of quirky perks: two organic meals per day, in-house yoga and $10,000 to spend on the computer setup of your dreams.

NEXT: PlayHopper

Last updated September 08 2010: 10:30 AM ET