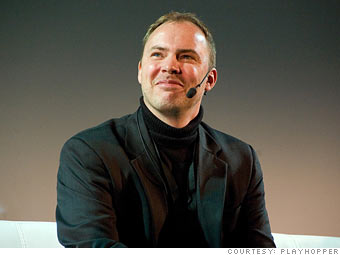 PlayHopper CEO Net Jacobsson
Founded: December 2009
Headquarters: Mountain View, Calif.
$ invested: Undisclosed -- self-funded
PlayHopper is a new social gaming company from industry veteran Net Jacobsson, the former director of Facebook's international business development. Jacobsson is currently an advisor to game companies including CrowdStar and Aurora Feint, but now he's using that expertise to launch his own startup in the burgeoning field.
"There are a lot of social games out there, but they're like NBC or CBS in that they try to cater to everyone," Jacobsson says. "PlayHopper is going to be like ESPN and the Food Network in that it targets very specific audiences."
PlayHopper's first game will launch in September, so Jacobsson is loath to provide many details on what's to come -- though he will say that one of the games under development focuses on travel, "a universal concept" that will make players want to connect with each other.
Jacobsson is the only U.S.-based PlayHopper employee. He's working with developers in Ukraine, Uruguay and China to develop the games. Though venture capitalists have expressed interest, Jacobsson says he prefers to fund the company himself for now.
"Social gaming is a huge field that's telling us a lot about real-world social mechanics," Jacobsson says. "Gaming will have a huge effect on the consumer Web as a whole -- and very soon."

More galleries

Last updated September 08 2010: 10:30 AM ET