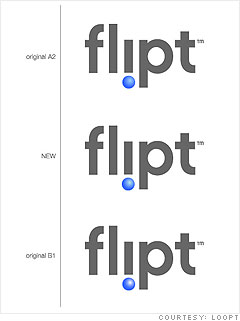 Loopt
Launched: 2005
One week before launch, location networking service Loopt -- then called Flipt -- was struggling to cling on to its name.
"We'd made a logo, put it in the app, written marketing copy -- everything," CEO Sam Altman recalls.
But just two days before the go-live date, Altman received what he calls a "nasty-gram" from Conde Nast. The publishing giant planned on launching its own social network for teenage girls with the name of "flip," and it threatened legal action if Altman's startup stuck with Flipt.
With 48 hours till their launch launch, the startup crew pulled an all-nighter throwing around names until "Loopt" came up. Five years later, the early mover in the geolocation field location has 5 million users, and is fighting to keep a technical edge on newer rivals like Foursquare and Gowalla.
Meanwhile, Conde Nast's Flip went flop. The social network folded, and the Flip.com domain now directs readers to Teen Vogue's site.
NEXT: Hard, soft and affordable
Last updated November 23 2010: 12:13 PM ET