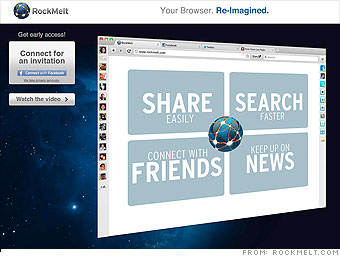 RockMelt
Launched: 2010
While many domain names come with a hefty price tag, RockMelt bargain hunted. The recently launched social media Web browser secured its domain for $12.
Initially, the startup was gunning for Yoke.com. After receiving a six-figure price quote for the name, the company opted out.
"We spent three weeks brainstorming names ... it was very painful. We looked at all these naming services with funky names online," co-founder and CEO Eric Vishria says
Eventually, the group decided they liked the word "melt."
"Melt was a soft world. We added a hard word to it: rock," Vishria says. "It was easy to spell, easy to say, and memorable. That was the key criteria we had."
The startup purchased the unregistered domain name, and spent two weeks developing a logo to go along with the name. With the design came a growing affecting for the name.
"Once we got the logo, we loved it," Vishria says. "It definitely evokes a strong emotional response, and in that way it's important to us."
NEXT: A puzzle site's mind games
Last updated November 23 2010: 12:13 PM ET