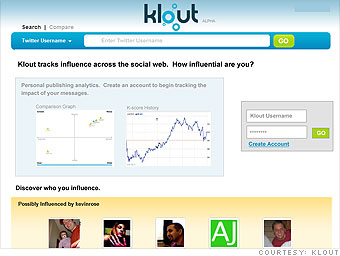 Klout
Launched: 2008
Persistence won startup Klout its domain. That, and Twitter stalking.
While recovering from jaw surgery, Joe Fernandez had lots of time to spend prowling around on sites like Facebook and Twitter. That sparked the concept for a service that allows people to measure their online influence.
Fernandez was married to the name "Klout" right from the start.
"The name of the company was always 'Klout,'" he says. "It was actually the first thing I wrote in my notebook when I started conceptualizing the idea."
Klout.com was already registered, so Fernandez bought klout.net. But the dot-com became his white whale: For the next year and a half, Fernandez contacted the owner of klout.com every week asking to purchase the domain.
"He always said he was going to build something on it, and that if he was to sell it he would need a lot more than I was offering," Fernandez says.
Fernandez followed the owner on Twitter, and one day he spotted a nearby check-in message: His target was in range.
"I had just gotten my first angel check, and saw that the guy was at a cafe near my apartment," Fernandez says. "I went there and threw an envelope of cash on the table and told him I would never stop bothering him until he gave me the domain. We did the transfer right then at the table, and that's how I got Klout.com."
NEXT: The newest prize: FB.com
Last updated November 23 2010: 12:13 PM ET