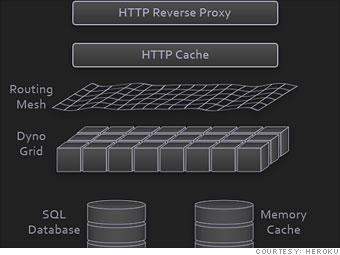 Cloud makes way for Cloud 2
Back in September, Fortune identified three cloud start-ups most likely to get snapped up after HP and Dell waged war over data storage company 3PAR. As it turns out, one of them, Heroku, caught the attention of cloud giant Salesforce.com, which nabbed the startup for $212 million.
Started in 2008, the San Francisco-based cloud provider focuses on "platform as a service" that emphasizes ease of use, automation and reliability for app builders. Heroku employs a multi-tenant software architecture, so one instance of software on a server can serve more than one client company. Third party add-ons let developers easily integrate additional features into their deployed apps. In a recent statement, Salesforce.com CEO Marc Benioff dubbed the next era of cloud computing "Cloud 2," which would emphasize social, mobile, and real-time aspects. "Ruby is the language of Cloud 2, and Heroku is the leading Ruby application platform-as-a-service for Cloud 2 that is fueling this growing community," he explained. "We think this acquisition will uniquely position salesforce.com as the cornerstone for the next generation of app developers."
NEXT:
Instagram
Last updated December 28 2010: 5:31 AM ET