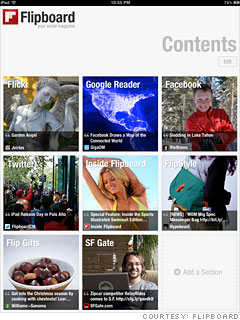 Make your own magazine, without even trying
Unless you use a dedicated RSS reader, keeping tabs on news and discovering new content can be tiresome, with lots of mouse clicks, trackpad taps, and scrolling. And even if you use Google Reader, aggregated links can become visually monotonous. That's why founder and Silicon Valley entrepreneur Mike McCue developed Flipboard, a "social magazine" that brings the visual appeal of print design to the web enabling an almost glossy-like web and social media browing experience.
In the five months since its introduction, Flipboard has amassed a lot of interest, both positive and negative. Though some have questioned the legality of the way it pulls some web content, investors like Kleiner Perkins, Caufield & Byers, Twitter creator Jack Dorsey, Facebook co-founder Dustin Moskovitz and Ashton Kutcher seem happy, at least enough to contribute at least $10.5 million towards development.
Readers, wish other startups made the list? Any predictions for next year? Sound off!
NEXT
Last updated December 28 2010: 5:31 AM ET