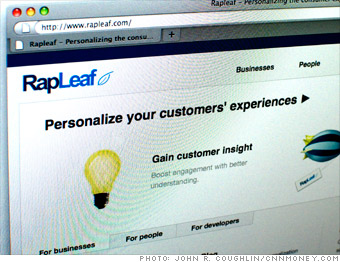 Who they are:
Depending on whom you ask, Rapleaf is either an online personalization pioneer or the company most likely to bring regulators' wrath crashing down on the entire industry.
Rapleaf creates and sells dossiers profiling millions of Web surfers by name. These contain information gleaned from sources like public records plus information about your online activities, including your user name on a smattering of social networks. Rapleaf buys data from an assortment of online and offline brokers to beef up its profiles.
The six-year old Rapleaf has been under fire in recent months after press reports revealed that it was buying Facebook user IDs from application developers -- a violation of Facebook's terms of service.
What they know: Rapleaf's data set could include your name, gender, age, location, occupation, educational history, marital status, how many children you have and whether you own or rent a home. The company also indexes and categorizes your interests, and gives you an "influencer score" based on how much weight your voice carries online.
As part of a peace treaty with Facebook, Rapleaf recently purged all of the Facebook IDs that it had collected. However, it still obtains and sells your usernames on sites including Twitter, MySpace, Flickr, Friendster, Bebo, Hi5, LiveJournal, MetroFlog, Multiply, MyYearbook, and Plaxo.
How to opt out: Rapleaf makes it fairly easy to opt out -- but first, you'll need to sign up on its website, using your name and e-mail address. The company will instantly e-mail you a link to confirm you're a human and not a robot. After you click on that link, you can click here to opt out.
The company also allows you to see and manage the information that is has about you -- though privacy experts suspect that Rapleaf has much more detailed information about you than it lets on.
The company itself suggests that: "We're dealing with a dataset orders of magnitude larger than what most research has been done on: we have approximately 1 billion records and thousands of possible attributes available," a recent entry in its developer blog says.
NEXT: Intelius
Last updated December 16 2010: 5:18 PM ET