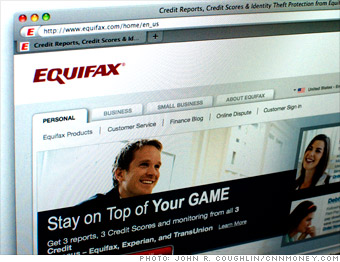 Who they are:
Remember, it's not just marketers who want your information -- and public and online data isn't the only kind of information that's being gathered up about you.
Your financial history is tracked and rated by three nationwide credit reporting companies: Equifax, TransUnion and Experian. The companies are supplied with data about your loans, loan payments and credit cards.
What they know: The companies take note of your debts, bankruptcies, wage information, bank accounts, loans, balances, child support payments and credit limits, as well as any time anyone checks your credit history. Your credit score also goes on the report.
Lots of other public and private information is collected about you in the reports, including your name, Social Security number, birthday, address, address history, employer, past jobs, and driver's license number. Judgments, liens, and other court cases you were involved in also go into your credit report.
How to opt out: You can't legally remove any accurate and "timely" information from a credit report, according to the Federal Trade Commission. But you can dispute inaccurate or incomplete information by visiting the websites of the three credit reporting companies: Equifax, Experian and TransUnion. Each is required to give you a copy of your credit report once every 12 months, which you can obtain for free at annualcreditreport.com.
Some of the companies also sell your address information to marketers who want to place you on e-mail lists. You can opt out of that by calling 1-888-5OPTOUT.
More galleries
Last updated December 16 2010: 5:18 PM ET