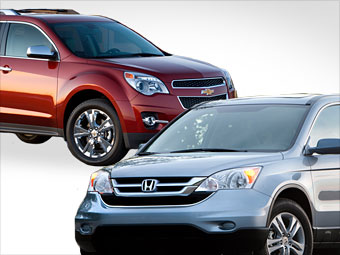 One of Chevrolet's hottest-selling models is its Equinox compact crossover, which competes with Honda's CR-V. It took GM a while to catch up with Honda, the Toyota RAV-4 and others in this category, but sales volume figures suggest that the buzz is getting around.
The Equinox LS offers a 2.4 liter engine, same as CR-V, has a six-speed automatic to Honda's five-speed and costs only about $1,000 more with similar equipment. Equinox's fuel economy is superior, as is legroom, though it gives up a bit of cargo space to the CR-V.
The engineers at GM have even come up with a feature the automaker says is exclusive: a back-up camera with a screen integrated into the rearview mirror. For this, among other reasons, the model has won a string of awards from various publications and safety groups.
NEXT: Chevrolet Silverado vs. Toyota Tundra
Last updated February 24 2011: 12:00 PM ET