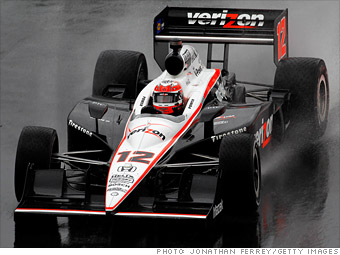 Real estate for this sponsorship level is on top of the engine cover, second position on the nose, and side plates of the front wing. A sponsor at this level typically spends
$2 million - $4 million
with IndyCar, but this doesn't include added costs of "activating" deals by spending on promotions in order to get as much return on the investment as possible. Greg Gruning, VP of Sales for IndyCar, estimates that overall, corporate sponsors will spend more than
$200 million
in activation money, which "has nothing to do with the actual cost of getting into the sports, and isn't inclusive of investment and rights fees." Gruning also says that for every dollar a sponsor invests, it spends roughly "a dollar and a half to two dollars" on activation. Such efforts can include events or promotions that occur separately from Indy races, such as Honda displaying its pace car in retail settings, or Izod setting up shop with an Izod IndyCar display in Macy's.
Brand-monitoring companies such as IFM measure camera time and deliver highly specific reports on exactly how much exposure each sponsor earned per year. Mike Kelly says that it's this ability to measure ROI that attracts sponsors to spend big on IndyCar. In last year's IFM report, the top 25 sponsors, based only on brand visibility, were Izod IndyCar, IMS, Honda, Firestone, 7-Eleven, Izod, GoDaddy, Target, Penske, and KV Racing Technology.
After Izod, the biggest sponsors this year at the series level are Honda, with the Civic as the official pace car of the race, Firestone, which provides all the tires, and Verizon as the official wireless carrier. In addition to the series sponsorship, Verizon is also a primary sponsor of the #12 Penske car, driven by Will Power. In fact, in December Verizon moved all of its motorsports sponsorship money out of NASCAR (where Sprint became the official wireless sponsor) and over to IndyCar. That's an estimated
$15 million
just in series and team sponsorship cost, without activation. Other major sponsors this year include Chevrolet and Target.