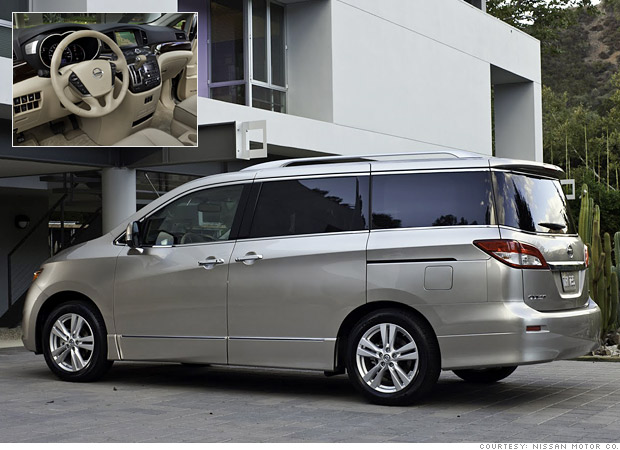 Base price: $27,750 - $41,350
Mileage: 19 City / 24 Hwy
Great if you want: A top-flight interior and good storage space
Weak spots: Driving quality doesn't live up to luxurious design
While people may differ on the exterior design of the Nissan Quest -- I like it, but I can see why a lot of people might not -- the inside, without question, looks great. In this van, every trim level gets wood grain and the overall quality stands at luxury-car levels.
The Quest is about mid-pack in terms of steering and suspension. Not really a driver's van, this one.
Among the the more interesting features are an available climate control system that sniffs the outside air for you and switches to "recirc" when it senses something nasty.(Sorry, but it only sniffs the outside air. It can't switch to "vent" when dirty diaper smell fills the cabin.) Also, this is the only van in which you can fold the third row flat without losing that deep storage been in the way-back.