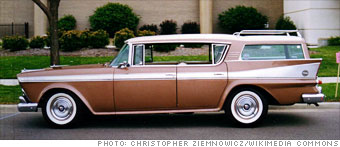 In 1957, George Romney, father of Mitt, was running American Motors. He decided that his company's Nash and Hudson brands had outlived their usefulness, so he replaced them with Rambler.

The Ambassador was the top of the line. The pillarless hardtop wagon was especially awkward, with the rear third looking disconnected from the front by virtue of a swooping belt line. Vinyl wood grain decals were available for the adventurous.

In the end, neither the station wagon, the pillarless style, nor American Motors survived. The company was sold to Renault in 1983 and then absorbed by Chrysler in 1987.