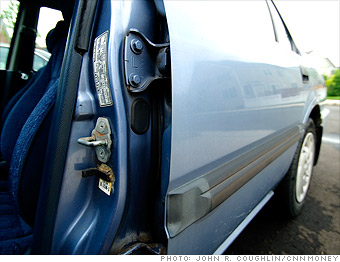 Got a faded paint job? Don't spend a fortune getting a new one. Break out the wax and polish your way to adding value to your car.
If your car's paint has become so faded you no longer remember what it used to look like, try opening the door and looking inside the door frame, suggested Tim Miller, founder of Surf City Garage car care products.
The area inside the door frame rarely gets exposed to sunlight and harsh chemicals so it will be close to the car's original color.
Keep in mind that all the waxing and polishing in the world may never get it completely back to that color and shine, but at least it gives you something to work towards.
Keeping it shiny: When washing your car, experts advise against using household detergents, like dish soap. To preserve your car's finish, use products that were created for the purpose.