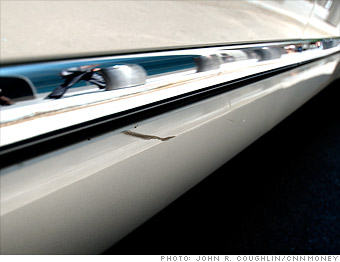 Don't think a dent isn't worth fixing, it is.
While it probably isn't worth investing in serious body work, some simple scratches and parking lot dings can be repaired without incurring huge bills.
Many minor paint scratches and scuffs can be polished out. For dents, there are reputable firms that specialize in dent removal, said Kelley Blue Book's Alec Gutierrez.
Be careful, though, not to resort to shoddy bodywork that could actually reduce the car's value.
"If you're going to get a poor job done, you're better off disclosing the car needs some body work," Gutierrez said.