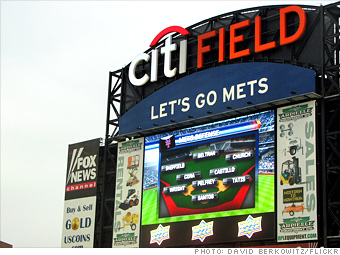 Other brands suffer from unfortunate circumstances. Take Citigroup. The company bought rights to name the Mets' new ballpark in Queens, which replaced the old Shea Stadium. Tons of people at the park use credit cards, says Neely, to pay for everything from hot dogs to autographed baseballs, which should have been a good marketing match for a financial services firm.
But the stadium was finished in 2009 -- a tough year to sell warm, fuzzy feelings about banks. At the time, Citigroup was making headlines for taking a $45 billion bailout from the U.S. government and also being reprimanded for frivolities like buying a $50 million private jet for executives. Citi Field became known as TARP Field and Bailout Ballpark in the New York tabloids.
While the $400 million over 20 years may have seemed like a good marketing move to the company, it rubbed plenty of baseball fans and Americans the wrong way. There's still time for the bank to turn its reputation around though, and disgruntled Mets fans might say that's even more likely than their team making the postseason playoffs.
NEXT: The bad: Candlestick Park/3com Park/Monster Park
Last updated March 30 2011: 2:36 PM ET