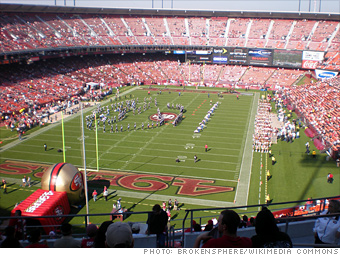 One of the hazards of naming a stadium that has been around for ages is that companies have to undo the sentimental feeling that sports fans attach to names that aren't brands.
Sponsors faced this issue at Candlestick Park, which used to be the home of the Giants baseball team, and is still home to the NFL's 49ers.
In 1959, the editors of San Francisco's four newspapers at the time chose the name of the new structure out of 20,000 write-in contest entries. The name seemed eternal, even sticking through the Loma Prieta earthquake that disrupted the 1989 World Series being played there.
Then in 1995, as the dot-com boom was warming up, 3Com paid the city of San Francisco $4 million for the rights to name on the stadium for seven years. When they didn't renew, along came Monster Cable, which bought the rights to call it Monster Park for $6 million over four years. (Both versions carried "at Candlestick Point" as an oft-dropped surname of sorts.)
In 2008, the name Candlestick Park returned, thanks to a 2004 referendum passed by voters mandating the name be restored once the Monster deal expired. The impact is somewhat muted, however; the Giants no longer play at the Stick and the 49ers are planning to leave, too.
NEXT: The on-the-mend: Enron Field/Minute Maid Park
Last updated March 30 2011: 2:36 PM ET