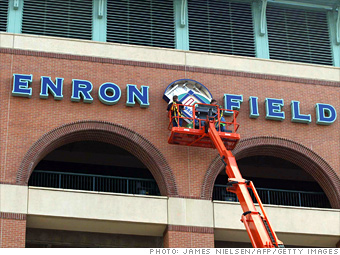 The Houston Astros acted quickly to cut ties with Enron when it became clear the association would hurt the name of the sports franchise. In 2001, Enron declared bankruptcy following an SEC investigation that revealed it committed accounting fraud, among many other unsavory activities.
Enron had agreed to pay the Astros $100 million over 30 years to name the stadium, which opened in 2000. In 2002, the Astros settled out of court, paying Enron's creditors $2.1 million to end the contract. Houston-based Minute Maid swooped in, offering $100 million for a 28-year naming deal.
The contract was good news for The Coca-Cola Company, of which Minute Maid is a unit. The company got exclusive "pouring rights" at the park's concession stands as part of the deal -- not something Enron was able to offer, anyway.
More galleries
Last updated March 30 2011: 2:36 PM ET