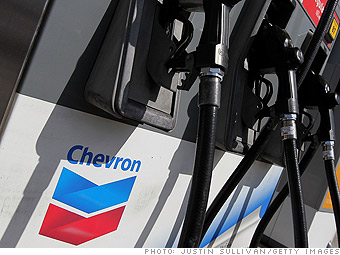 P/E: 9.1
EPS growth: 12%
If your love tank feels a little empty, try filling it with shares of Chevron. The oil giant has been reaping handsome profits on the back of higher oil prices.
Plus, it may be the biggest bargain among Big Oil companies. Shares are currently trading at 9 times earnings estimates for this year. Exxon Mobil (XOM) is trading at 12 times earnings.
"There's good value there, which we don't see in the overall energy sector," said Derek Rollingson, manager of the Icon Energy Fund (ICENX). Chevron is the fund's largest holding.
Though it's already climbed 5% in 2011, Barclays' energy analysts expect Chevron's stock to surge almost 20% to $113 per share as oil prices move higher. They're predicting crude will top $100 a barrel.
Rollingson said Chevron will also benefit from its investment in natural gas. Last November, Chevron announced it is buying natural gas-producer Atlas Energy for $4.3 billion.
NEXT: EMC
Last updated February 14 2011: 10:25 AM ET