Tired of heartbreaks? Celebrate Valentine's Day with 9 irresistible stock picks, including Chevron, EMC and and Cummins.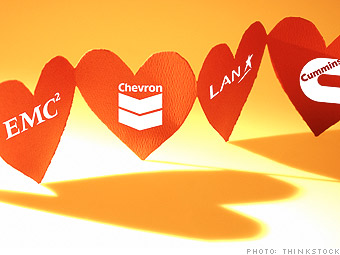 Your Valentine's Day roses will wilt within a few days, but these nine swoon-worthy stocks will hopefully blossom throughout the year.
We picked through thousands of fish in the sea to find the stress-free sweethearts with sexy profit margins, slim debt loads, and affordable valuations that will no doubt outshine your former flings.
They've also got outstanding potential for future earnings and sales growth, and are more than willing to offer you sweet and steady returns starting now until death do you part.
So if you like it, go ahead and put a ring on it. Who said investing isn't romantic?
NEXT: Chevron
Last updated February 14 2011: 10:25 AM ET