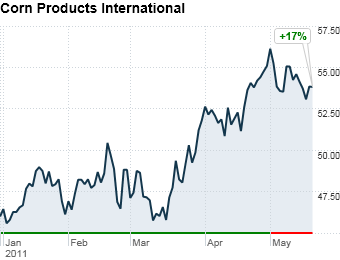 Market cap: $4 billion
YTD returns: 17%
Companies that make food products from milling, such as Corn Products International (CPO), are profiting from surging corn prices, said Michelle Clayman, portfolio manager for the Calvert Capital Accumulation Fund (CCAFX), which includes shares of the Westchester, Ill.-based company.
A number of food processors will benefit from higher corn prices, but Clayman likes Corn Products in particular because of its recent acquisition of rival National Starch, which has already helped boost Corn Products' bottom line.
In the most recent quarter, Corn Products sales jumped 56%, with almost a quarter of the sales coming from the newly acquired business.