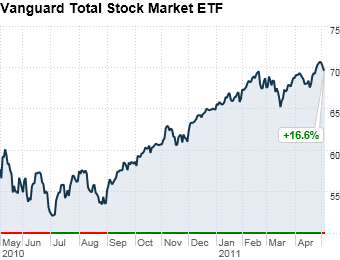 Ticker: VTI
Inception date: May 2001
Return since inception: 20%
1-year return: 17%
Expense ratio: 0.07%
Some of the best long-term bets offer broad exposure, say experts. That makes the Vanguard Total Stock Market ETF (VTI) a solid core holding.
The fund, which carries a very low expense ratio, tracks the MSCI U.S. Broad Market Index by investing in over 3,000 U.S. stocks. The biggest holdings include giants like Exxon Mobil (XOM) and Apple (AAPL). To capture the entire market, the fund also allocates about 10% of its assets in small and micro-cap companies, such as regional bank Northeast Bancorp (NBN), based in Maine, and Minnesota-based HMN Financial (HMNF).
"This one ETF allows you to own the entire U.S. stock market, and it doesn't get much easier than that." said James Dailey, chief investment officer at TEAM Financial. "With a holding like that, you won't hit a home run, but you also won't strike out either."