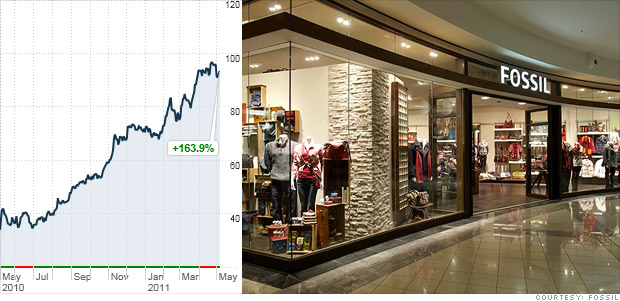 12-month return: 164%
2011 P/E: 22
Market cap: $6 billion
Fossil (FOSL) has been capitalizing on the latest trend in watches -- the white watch band. The Richardson, Texas-based retailer's sales have jumped to record levels as consumers loosen their purse strings for the latest affordable fashion accessories.
Earlier this week, Fossil reported a 37% jump in first-quarter sales to $537 million, while profit soared 56% to $35.9 million.
The fascination with white watch bands started about two years ago but the trend is still going strong. "A typically watch cycle lasts about four or five years," said Eric Marshall, portfolio manager of the Hodges Small Cap Fund (HDPSX), which holds shares of Fossil.
"Fossil has done a great job in positioning itself in the watch business not only with its own brand, but its licensed brands like DKNY and Michael Kors," he added. If the retailer's sales and earnings continue to do well, Fossil's stock should keep pace with that growth.