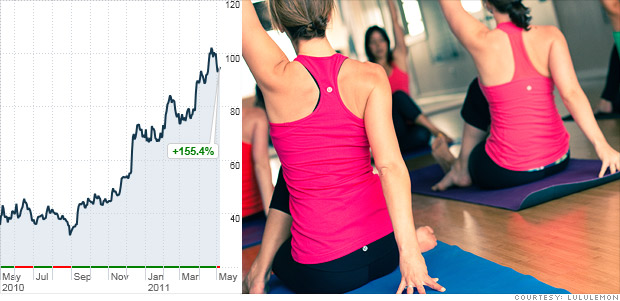 12-month return: 155%
2011 P/E: 49
Market cap: $5 billion
Workout gear retailer Lululemon (LULU) was founded just 13 years ago in Vancouver, but thanks to devoted fans, it's moved beyond the Canadian border.
The brand has become so popular in the United States that the company even faced temporary inventory shortages.
"Lululemon has reached an inflection point," said Christian Buss, analyst at ThinkEquity. "It is now the first choice for casual athletic wear in the American market." And there's plenty of room to grow.
Currently, there are almost 100 Lululemon stores in the United States, and Buss says there's enough demand to triple that.
Lululemon is also making a name for itself online, launching an e-commerce site to reach consumers who don't live near any of its stores.