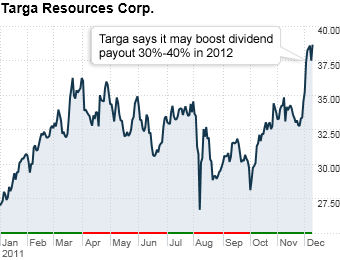 YTD stock performance: 48%
Market cap: $1.6 billion
Fortune 500 Rank: 416
Tired of virtually record-low interest rates, income-hungry investors have been on the hunt for dividend stocks, including Targa Resources Corp, which made its public debut in December 2010 and yields a quarterly dividend of more than 3%.
At the start of this month, Targa said it may increase dividend payments by as much as 40% next year, thanks to growth at Targa Resources Partners, which provides natural gas and natural gas liquid services across the country through a limited partnership.
Houston-based Targa also announced major management changes this month that helped boost the stock price. Barclays analysts expect the momentum to continue, targeting the stock at $59 per share, at 53% jump from current levels.