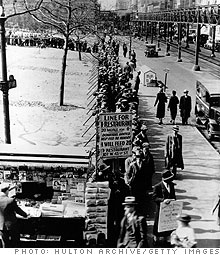 The U.S. economy was already in a recession in 1929, when newly appointed New York Fed President George Harrison (not the guitarist from the Beatles) decided he wanted to curb an emerging stock bubble. He convinced the Fed to raise interest rates, instead of letting stocks run their course.
Two months later, the stock market crashed, starting the Great Depression.
The rise in interest rates had affected the economy, like sticking a needle in a balloon rather than letting the air out slowly. The Fed had choked off economic growth, collapsing the entire financial system.
To make matters worse, the Fed raised interest rates again following the crash, and failed to increase the money supply to combat deflation. People started stashing their cash under mattresses instead of in banks, turning a bad recession into a full-blown crisis.
NEXT: Great Recession
Last updated March 24 2011: 3:05 PM ET