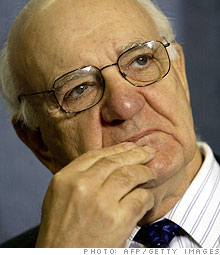 Considered one of the loudest critics of the "Too Big to Fail" excuse protecting America's largest banks, former Fed Chairman Paul Volcker, ironically was the creator of T.B.T.F. more than 20 years ago.
When Chicago's largest bank Continental Illinois went under in 1984, the Federal Reserve rushed in to save the day, issuing Continental $3.6 billion in loans. Volcker was at the Fed's helm.
Testifying before the Senate, he later defended the move, saying bailouts are "the most basic function of the Federal Reserve. It was why it was founded."
Since then, Volcker has advocated against the "Too Big to Fail" monster he helped create.
NEXT: The helicopter speech
Last updated March 24 2011: 3:05 PM ET