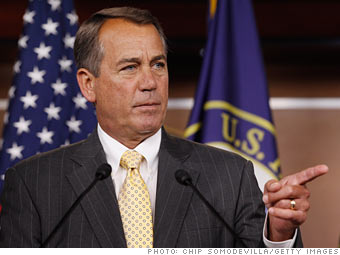 Boehner, now Speaker of the House, was its minority leader in 2010.
Boehner did a lot of buying and selling last year, reporting more than 100 transactions. Only a few of those trades made him money, including the sale of shares of American Funds Growth Fund of America, which brought in at least $80,000 from July through December of last year.
His top assets were in various mutual funds, with at least $100,000 each sunk into the Henderson Global Investors International Opportunities Fund and Franklin Templeton Mutual Globe Discovery Fund, for example. Much of his assets are invested in IRA funds. He also has a pension worth at least $50,000.
He got a nice raise this year: As Speaker, his base salary will be $223,000, up from the $193,400 he earned as minority leader.
He reported no liabilities. He did report receiving as a gift a flight from Washington to Palm Beach, Fla., in March from the conservative Club for Growth. He didn't report a value for that gift.