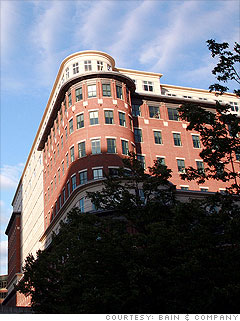 Top MBA Employers rank: 6
% of MBAs who want to work there: 11.77%
Headquarters: Boston, Mass.
What makes it so great?
"There are three really important things I was looking for: I wanted to make an impact, work with truly extraordinary people and come to a place where the learning environment was incredible. The people here really care about results and what we have in common is our desire for impact and a sense of humor. We say, 'a Bainy never lets another Bainy down.' Everyone understands the better we make each other the better results we'll get the client. I've been really impressed with that."
-- Eliza Kennedy, 2010 graduate of Harvard Business School
Getting hired:
New hires at Bain immediately join client teams and are generally promoted to case team leaders after about two years. There are both formal global training programs and informal mentoring that happens on a day-to-day basis.