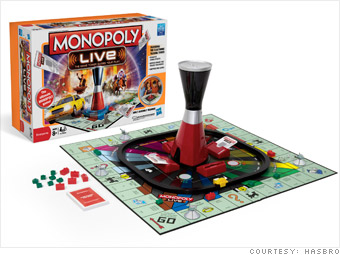 Maker: Hasbro
Price: $49.99
Age: 8 & up; available in Fall
Monopoly Live is a new interactive version of the classic boardgame that gives players an unexpected and unique experience. There's no Monopoly money or dice used.
The centerpiece of Monopoly Live is Motion Vision Play technology, an electronic tower in the middle of a specially-designed game board.
The tower and board work together to react to hand and pawn movements as the game is played. Players wave their hands over various sensors on the board to direct all the game play.
The tower guides the players and also gives them unexpected twists such as putting up a sought-after property for bid in a surprise auction.
NEXT: Let's Rock Elmo
Last updated February 11 2011: 11:47 AM ET