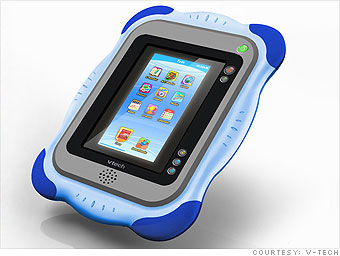 Maker: VTech
Price: InnoPad $79.99; software titles: $24.99 each
Age: 4-9 & up; available in Fall
With the new InnoPad, VTech brings the Tablet experience to kids.
InnoPad is a multi-function tablet that offers interactive and animated reading, educational gaming and creative activities.
It features a 5inch color touchscreen, a tilt sensor for game control, microphone, interfaces for USB, SD card and a headphone jack.
Kids can also listen to their favorite music on InnoPad's integrated MP3 player and watch videos. Other integrated applications include a calculator, calendar, notepad, clock with personalized voice alarm and an address Book.
VTech will offer more than 100 software titles for InnoPad this year, including Dora The Explorer, Scooby-Doo and Toy Story.
NEXT: Color bubbles
Last updated February 11 2011: 11:47 AM ET