A car with a tiny video camera built-in, a laser-controlled stunt car, a musical Elmo and a magic wand that captures color are some of this year's most mesmerizing toys.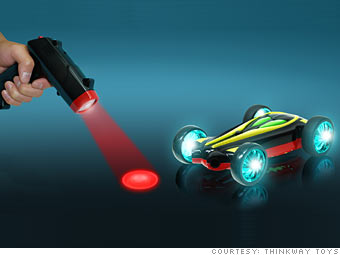 Maker: Thinkway Toys
Price: Lazer Stunt Chaser with stunt ramp $42.99 - $45.99; playsets and accessories $30.99- $55.99.
Age: 5 & up; available in June/July
Pegged to be the hottest toy of the year by some industry experts, CNNMoney is the first to reveal Lazer Stunt Chasers from Thinkway Toys.
The Stunt Chaser cars, called Dragonfire and Flameout, are stunt cars that chase a projected light from an infrared remote-control device.
Point the light on the ground and they automatically chase after it at turbo speed. The car's wheels also change color when the cars flip to the other side.
Each car comes with a 3-in-1 stunt ramp for climbing, flipping and jumping. The cars are powered by a digital micro-processor and twin motors. They move forward, backward and also do spins and flips.
NEXT: Hot Wheels Video Racer
Last updated February 11 2011: 11:47 AM ET