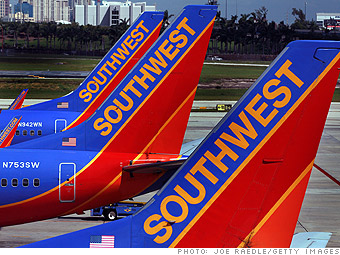 Unlike other airlines, Southwest hasn't resorted to tacking on many new fees to support its business. While the airline does charge for additional services such as flying pets, Southwest has taken the stance that it's worth the gain in customer loyalty to forgo the added cash from extra fees. Customers won't pay to change or cancel their tickets on Southwest as they do on almost every other carrier.
Southwest has tapped into new revenue through initiatives like its "Early Bird" program where passengers can pay $10 more to guarantee early check-in. Southwest also launched a new version of its frequent flier program, Rapid Rewards, at the beginning of March, with no blackout dates for flights and a plan to keep points from expiring.
The company has generally done well since it began operating in the 1970s. In the midst of the recession, it has stayed profitable by adding new routes at the same time as reducing the total number of flights, enabling it to cut costs and still tap into new markets.
NEXT: Lufthansa
Last updated March 30 2011: 1:06 PM ET