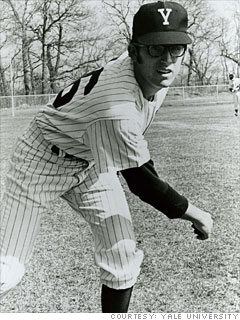 Terrence M. (Terry) Marks, Pantry
This convenience store chain CEO knows how to play hardball: He's a single season pitcher from the University of Southern California. Pitching 6 games in 1982, Marks held a 4.66 ERA with 13 walks and three strikeouts. He then had a short stint pitching for the Great Falls Giants, a San Francisco Giants affiliate, for one season.
Daniel F. Akerson, General Motors
After trying out for the Naval Academy's varsity baseball team, Akerson ('70) hoped to play shortstop. Ultimately he was cut and took up boxing. Though boxing was not a varsity sport at the time, Akerson remained disciplined and passionate in the ring, maintaining his middleweight class around 167 to 175 pounds.
W. James McNerney Jr., Boeing
After earning a minor letter in JV hockey at Yale, McNerney ('71) went on to earn three varsity letters in baseball as their starting pitcher. All told, he pitched over 100 innings during his three-year baseball career. --T.M.
NEXT: B-ballers
Last updated May 06 2011: 3:09 PM ET