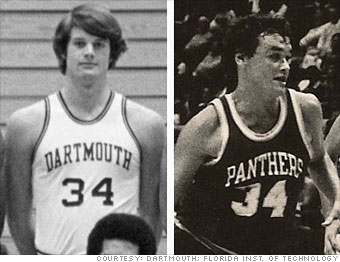 eBay's John Donahoe (left) and CarMax's Tom Folliard
John J. Donahoe, eBay
Earning a JV letter as a freshman on the squad at Dartmouth, Donahoe ('82) had a decent single season. With 34 points and 32 rebounds, the 6'5" CEO wasn't afraid of contact. Today he works out at the company's headquarters and attends Pilates classes once a week.
Lynn Laverty Elsenhans, Sunoco
Although Rice University's first women's intercollegiate basketball team went 0-11 in their first season, Sunoco CEO Lynn Laverty Elsenhans ('78) went on to become a "Rice Champion," so deemed by then-athletic director Christopher M. Del Conte. She lettered from 1974-75.
Thomas J. Folliard, CarMax
Long before taking his role as CEO at the nation's largest online used car retailer, Folliard ('89) maintained an impressive basketball record at the Florida Institute of Technology, scoring over 1,000 points. Folliard's father coached the team and he shared a season with his brother Kevin. Both Folliard Jr. and his father were named to the Florida Tech Sports Hall of Fame. --T.M.
NEXT: Tennis match: Mulally vs. Appleton
Last updated May 06 2011: 3:09 PM ET