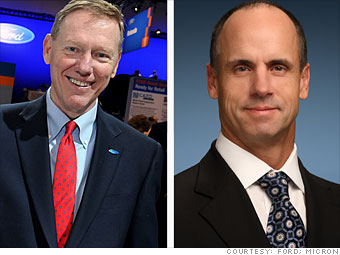 Alan Mulally (left) and Steven Appleton
Alan R. Mulally, Ford
The American auto boss ('67) enjoyed a short stint in the semi-pro circuit after earning his Bachelor's and Master's degrees in aeronautical and astronautical engineering from the University of Kansas.
Steven R. Appleton, Micron Technology
The head of this memory chip supplier "learned to play left-handed after breaking his right wrist," according to "Winner Take All," by Richard J. Elkus. He held a tennis scholarship at Boise State while working towards his business administration degree. After four years on the courts at Boise State, Appleton ('82) played pro-tennis on the satellite circuit for six months before diving into his career at Micron Technology. --T.M.
NEXT: Wrestling meet: Rust vs. Thain
Last updated May 06 2011: 3:09 PM ET