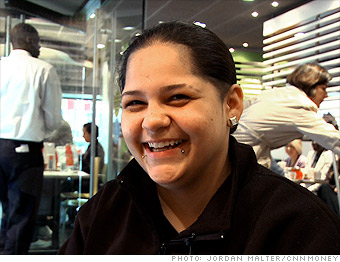 High school students and 20-somethings were one of the biggest groups to turn out for McDonald's National Hiring Day in New York Tuesday.
Among them was recent high school grad, Otero, 20, who was walking along Times Square and applying at Abercrombie & Fitch, Hollister and the Gap, when she decided to also stop in at McDonald's.
Otero is hoping to go to college to study visual arts. In the meantime, she wants to boost her resume with customer service experience and save up some money for tuition.
NEXT: Gary Phaneuf
Last updated April 20 2011: 2:05 PM ET