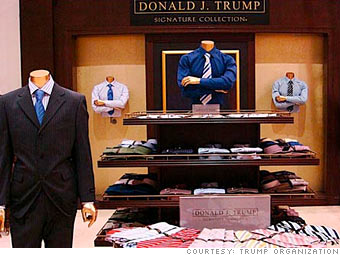 Trump considers himself to be a dapper dresser, with dark, conservative business suits and power ties. You'll never see him wearing anything else.
So naturally, he has his own clothing line. He released his "Signature Collection" in 2005, piggybacking on the success of "The Apprentice." Macy's offers Trump's full line of suits, shirts, ties, leather belts, sunglasses and cuff links.
His web site describes his clothing line as "the pinnacle of style and sophistication." But others aren't so sure.
Tom Julian, president of the brand consultancy Tom Julian Group and author of "Nordstrom's Guide to Men's Style," said the Trump brand "falls short" of what he considers "pure luxury," which often includes an Italian pedigree, the finest fabrics and "hand-crafted details and elements."
"This is more a value brand, not quality or luxury," said Julian.
Trump spokeswoman Cathy Glosser said the clothing is designed for "affordable luxury," with dress shirts retailing for $69.50 and ties selling for $59.50.
NEXT: Trump Ice
Last updated May 03 2011: 11:16 AM ET