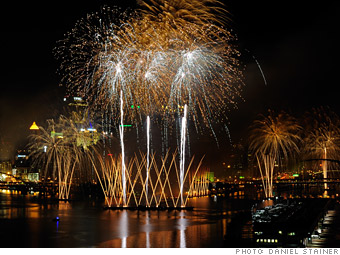 Based in New Castle, Pa. -- the "Fireworks Capital of America" -- Zambelli Fireworks puts on some of the biggest and best-known 4th of July shows in the country, with notches like previous Macy's 4th of July Fireworks shows in its belt.
The company has been around since 1893, when Antonio Zambelli came to Pennsylvania from Italy. His son, George, was President and CEO until he passed away in 2003. Since George, Jr., is a surgeon (although still a chairman at Zambelli), the company searched for a business-savvy replacement with a love for the craft. They found George Taylor, who now runs the show.
Every display is created with the crowd in mind, he says: "We want to hear the audience scream."
Taylor hopes his fantastical shows will inspire youngsters to take up fireworking and realize that it can be a career -- and a lucrative one at that. Zambelli's designers (the architects of the shows) make anywhere from $75,000 to more than $200,000 a year.
Where to Watch: Ocean City, Md.; Phoenix, Ariz.