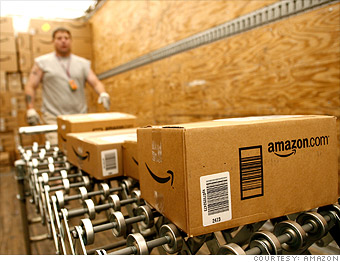 Fastest-growing rank: 45
Fortune 1000 rank: 78
The online retailer focused on becoming the "earth's most customer-centric company" pays very close attention to both its brick-and-mortar and virtual competitors. Barnes and Noble this year shifted its focus to its e-reader business and ended a bid to sell itself. Borders went bankrupt. Sales at Amazon.com, meanwhile, grew by 51% in the second quarter, helping secure its place on this list.
It hasn't all been easy, however. The company continues to spend heavily on infrastructure, particularly its warehouses and technology, which is taking a hit on profits.
It all could end up paying off. Earlier this year the company said that electronic book sales surpassed print book sales for the first time. The company expects to bolster its Kindle product with a full-fledged tablet later this year, and it's reportedly considering launching a Netflix-like book rental service.