These five indicators do a good job of showing what's really going on -- and what it feels like -- out there.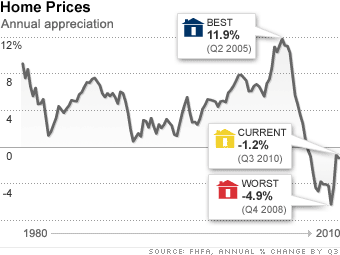 SCORE: 2.9*
How much your house is appreciating (homes being far bigger assets than stock portfolios for most people) is also a major input in your nest egg.

In 2005, housing prices peaked and borrowing against home equity was all the rage. Then, the financial crisis hit and home prices tanked. But by the end of 2010, home prices began stabilizing and had dropped just 1.2% from 2009. They look to stage a modest comeback this year.
NEXT: Industrial production
Last updated March 02 2011: 5:21 PM ET
* Score is on a scale of 1-10 against their best (10) and worst (1) results since 1980.