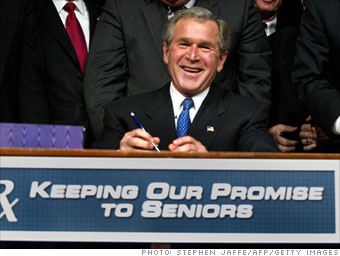 Without finding a way to pay for it, Congress passed a law in 2003 that expanded prescription drug benefits for seniors on Medicare.
Originally estimated to cost $395 billion over 10 years, costs are now expected to be much higher -- and there is no expiration date.
Bush characterized the measure as "the greatest advance in health care coverage for America's seniors since the founding of Medicare." But there was no corresponding tax increase or spending cuts to pay for it.
Now, it's estimated that Medicare Part D will cost about $1 trillion dollars over the next 10 years.
NEXT: Bush stimulus: 2008
Last updated April 27 2011: 5:01 AM ET