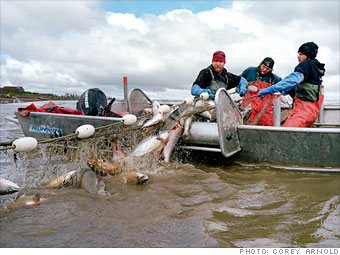 Every year from May to July some 40 million salmon return to Alaska's Bristol Bay on their way to spawn in the region's rivers. Tough conservation laws have helped maintain the state's fish population over the years, a boon to the 9,000 fishermen who have been hauling in record catches. After a virus decimated Chile's farmed salmon industry, demand for Alaska's wild stock jumped.
$533 million: The size of the annual Alaskan wild salmon catch. Some 80% of the 203 million fish caught in the state are sold internationally.
95¢: The average price per pound that Alaskan fishermen receive for their catch. The best wild salmon sells for well over $20 a pound in the Lower 48.
30 million of the 40 million salmon that return each year to Bristol Bay are caught. That's roughly equivalent to half a pound of fish for every American.