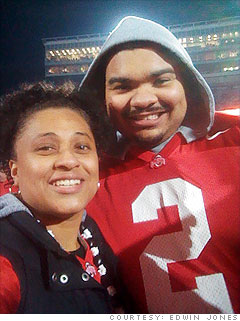 Edwin Jones, 25
Columbus, Ohio
My wife Candice and I both believe that the "American Dream" is attainable and we are well on our way to achieving it -- but the dream has evolved.
While our parents' generation was so focused on getting their equal rights -- for both minorities and women -- we're now looking for another way to help out.
We still want a home, and intend to have kids, but there's also an emphasis on making a positive social impact.
Through our church, we're involved in programs that help minority high school students who are interested in the accounting and finance professions, and also work with an organization that raises money for cancer patients.
We both have 401(k)s and savings accounts that we try to increase every month, and we focus on the long term belief that our future children will not experience the same difficulties as we did, due to financial circumstances.
We define the American Dream as having enough available for emergencies and enough to enjoy life, but also enough to help out a family member or friend in their time of need. There is no exact dollar amount to this as it depends on what you want out of life.