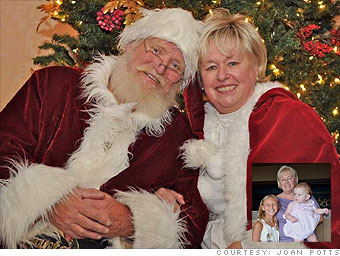 Joan Potts
Ocean Gate, N.J.
A friend of mine who was Santa for many years needed help, so about 12 years ago I began assisting him as Mrs. Claus.
I used to work as a marketing manager for AT&T for about 22 years. I retired and now I have a small event planning business, Joanie Productions. As part of that job, I not only serve as Mrs. Claus... I have seven Santas that I manage too! I'm busy keeping them working and keeping them in line. Other than that, I spend my time with my four granddaughters.
This year, I've been working as Mrs. Claus at Lord & Taylor and the Westfield Corporation.
[As a Mrs. Claus spokeswoman for Clorox] I keep everyone in the workshop healthy, I remind Santa to stay healthy, make sure the elves wash their hands frequently and that they're disinfecting their tools and surfaces regularly.
I have a couple of side jobs too. One customer, for example, flies us out to Palm Beach, Fla. for four days to work at neighborhood and company parties.
My favorite part of the job is spreading Christmas cheer.