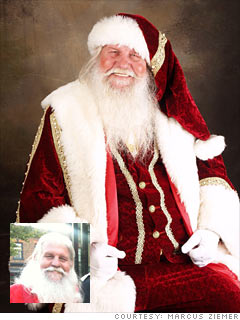 Marcus Ziemer
Orlando, Fla.
What other job in the world revolves around making people smile?
My wife and I are Santa and Mrs. Claus for Paltalk, a video chat service. We actually have an office in our home set up like Santa's workshop. From there, we talk to people all over the world. Last year, we were serenaded by a group of children in Turkey, and overall, we video chatted with kids in 19 different countries!
For me, it's not really a job, as much as it's a life. I keep the look all year round. It's not like I can just shave and re-grow this beard so easily!
If you become Santa to make money, you're in the wrong business. This job has never been about the money you can make at it. Paltalk gives me a [free] premium subscription valued at about $70 for the year, but that's my only compensation.
I still tell people my wife and I are the highest paid Claus's in the world because we get paid 10 million smiles (number of Paltalk users) a year and you couldn't replace any one of those with a dollar.