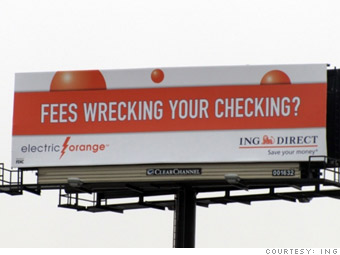 ING Direct offers a free checking account and no ATM fees -- as long as customers use one of the 35,000 Allpoint network ATMs. But if you go outside that network, the bank won't reimburse fees. So be sure to watch the icons on the ATM machine.
And while ING Direct doesn't give you paper checks, you can fill out checks online and the bank will mail them for you for free.
Its checking account, Electric Orange, currently yields 0.25% for balances under $50,000 and 1.2% and up for larger balances.
ING Direct also offers person-to-person payments through its site or mobile app. That means you can send anyone money, anytime, at any bank, as long as you have their account number.
NEXT: USAA
Last updated January 28 2011: 2:44 PM ET