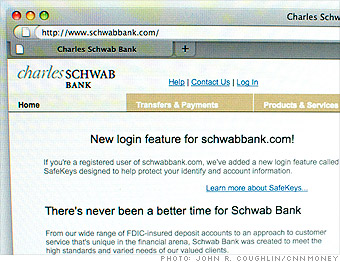 Charles Schwab is another online bank with a free checking account. To enjoy the free checking, though, you have to open a brokerage account first. But that's easy since you don't have to make any trades or carry a minimum balance.

Once you open the Schwab Bank High Yield Investor Checking account, there's no monthly service fee, no currency exchange fee when using ATMs overseas and no minimum balance requirement. Plus, it pays a 0.25% yield.

Schwab will also let you use any ATM at zero charge and offers unlimited ATM fee rebates for the fees other banks charge. Like Ally, Schwab also issues free paper checks to its customers.

Fidelity offers a similar account -- mySmart Cash Account -- if you open a Fidelity brokerage account first.
NEXT: How to choose
Last updated January 28 2011: 2:44 PM ET